Bay Area JusticeCorps is an AmeriCorps program administered by California Volunteers and sponsored by the Corporation for National and Community Service. Now entering its 18th year (2023-2024), the award-winning California JusticeCorps program recruits, trains, and places over 270 undergraduates and recent graduates in court-based self-help centers. The ability of individuals facing family, housing, financial, and personal safety crises to access the legal system and understand and safeguard their rights is vital to achieving economic self-sufficiency and promoting community stability. To help improve access to justice and ensure fair outcomes for all, California has committed to doing more to help people who need to resolve important civil legal issues but don't have professional representation.
Bay Area JusticeCorps recruits 70+ college students every year for their student member program. Bay Area partner schools are California State University-East Bay, San Francisco State University, San José State University, Santa Clara University, Stanford University, University of California-Berkeley, College of San Mateo, Cañada College, and Skyline College.
ICCE coordinates with BayArea JusticeCorps to recruit and support participating SF State students in the program. 
Announcements
Information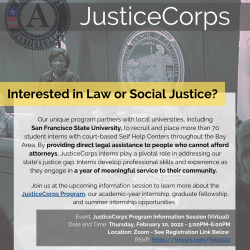 Upcoming Information Sessions
Stay tuned for more info sessions!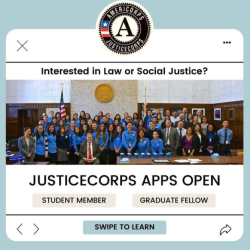 AY 2024-25 Applications
Applications for the upcoming 2023-2024 JusticeCorps Program are now closed.
Check back in December 2023 for AY 24-25 application link.
Continuing students and graduating seniors interested in Public Service, Law, Social Justice, and/or community service can are welcome to apply. JusticeCorps is an academic year program.
JusticeCorps is an AmeriCorps program that will engage approximately 55 continuing university students from Bay Area Partner Universities and 8 graduate fellows in intensive volunteer service in the self-help centers of the Superior Courts of: San Mateo, Alameda, Contra Costa, Santa Clara, and San Francisco Counties for the 2023-2024 program year. The self-help centers assist litigants, who cannot afford an attorney; help themselves resolve their legal matters. Unlike other many other fellowship, internship, and volunteer programs JusticeCorps members work directly with people in need and do not do administrative work.  
Students
Overview
JusticeCorps members work directly with people in need and do not do administrative work

The opportunity to serve their community

One on one interaction with litigants

Practical law and social services related experience

Daily opportunities to work with lawyers

Courtroom observation

Shadow days with judicial officers

Field project or internship credit

Letters of recommendation for law school or graduate school
Deadline for the AY 2023-24 are now closed. 

A link to the AY 2024-205 application will be posted in December 2023
Any academic major may apply

Applicants need to be US citizens or permanent residents

Applicants must be enrolled during the academic year for which they apply at one of the nine partner colleges and universities. SF State is a partner school.

Applicants must pass a LiveScan fingerprint background check and an AmeriCorps background check

Prospective JusticeCorps members must have at least a 2.5 GPA
Please check back December 2023 for more information about the AY 2024-2025 program and application.
You don't need to have any legal experience! While it is appreciated, you do not need to have prior law experience for a JusticeCorps position. We provide over forty hours of intensive legal training as well as daily supervision and mentorship of attorneys and legal professionals to help you prepare for your year of service.
As a member - a full-time student who serves ~8-10 hours a week- you will be helping litigants navigate the justice system. You'll be assigned to one of our partner sites in Alameda, Contra Costa, San Francisco, or San Mateo and provide direct (in-person or remote) assistance to self-represented litigants. Under the supervision of an attorney or legal professional, you may be asked to assist people with completing their legal forms, provide substantive and procedural legal information, provide language assistance to LEP litigants, assist in facilitating workshops, and refer people to local legal aid organizations. The types of civil legal matters can vary depending on the site but may include the following: divorce, child custody, and visitation, child support, restraining orders, small claims, unlawful detainers (evictions), and guardianship.
The part-time student member position is not paid. There is, however, a $1,459.26 AmeriCorps education award presented to you at the completion of your term of service. Full-time fellows receive awards totaling $10,000* as well as a living stipend of $33,000 for the year.
The educational award is a post-service benefit given to members after completing their required hours. Student members who complete 300 hours receive a $1,459.26 education award and full-time members (fellows) who complete 1700 hours receive awards totaling $10,000*. These awards can be applied to existing student loans, paid directly to your university for tuition, or saved for up to 7 years for future education.
*Upon successful completion of their service, AmeriCorps members are eligible to receive a Segal AmeriCorps Education Award from the National Service Trust that they can use to pay for higher education expenses or apply to qualified student loans. In addition to receiving the federal Segal AmeriCorps Education Award, full-time members, who complete a minimum of 1700 service hours will receive a California For All Education Award for a combined total value of $10,000. Both educational awards are considered taxable income. CFA Award is contingent upon final budget appropriation by the state of California.
Student Spotlights