This exciting opportunity is a partnership between SF State University, the National Park Service | Golden Gate National Recreation Area, and the Golden Gate National Parks Conservancy. The Dr. Nina S. Roberts Academic Internship Program is a summer internship at the Golden Gate National Parks that encourages student interns to expand their learning and knowledge outside of the classroom while earning a stipend and academic credit. Student interns support the parks through diverse capacities including youth and community engagement, habitat restoration, business management, law enforcement, historical interpretation, and more.
ICCE is the SF State campus lead for the Golden Gate National Parks Dr. Nina S. Roberts Academic Internship program.
Announcements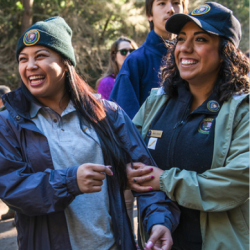 Learn more about the Academic Internship!
Let us know if you are interested in this internship by completing a student interest form. 
Learn about past internship positions by watching the 2022 Academic Internships Webinar here. Hear from park staff mentors about the program and the range of positions, including natural and cultural resources, media, historic landscaping and gardening, public affairs, youth, interpretation, community stewardship, and more.
10-week summer program late May-early August | $75 daily stipend 
Program Overview
Overview
Our partners, the National Park Service | Golden Gate National Recreation Area, and the Golden Gate National Parks Conservancy announced on June 3, 2022, the renaming of the Academic Internship Program in honor of Dr. Nina Roberts:
Nina was one of the principal co-founders and architects of the program back in 2012 and has played a fundamental role in shaping the vision and framework of the program ever since. She was a pivotal force for equity in the world of parks and public lands and was passionate about investing in our next generation of leaders. We believe Nina's work and aspirations reflect the heart and hope of this program. Her impact and legacy will be carried forward in the story of the program; the onboarding of students, mentors, and partners; and our work to center diversity, equity, and inclusion in this program and our parks.
At SF State, Nina served as Director of the Pacific Leadership Institute and, most recently, as the Faculty Director of Community Engaged Scholarship & Learning at the Institute for Civic & Community Engagement. ICCE Executive Director, Jen Gasang, shared "Nina was a force of nature-full of passion, enthusiasm, and energy. We lost a friend, mentor, colleague, and fierce advocate for social justice. She leaves behind an enduring and inspirational legacy. We will miss her greatly."
Receive a $75 per day stipend

Earn academic credit through a service learning and/or academic internship*  

Internships typically take place January thru May, summer extensions may be available

Part-time and full-time positions are available

Positions in San Francisco, Marin, and San Mateo counties

Positions range from Natural Resources to Business Management and beyond

Work on meaningful projects with a network of people who love their jobs

Strong mentorships that provide constructive instruction, coaching, and support

Gain specialized training, professional workplace skills, and leadership development

High impact, academic, vocational, professional, and personal growth experiences

Career development opportunities

Join a diverse team of your college peers to experience these spectacular parklands firsthand, behind the scenes, and in-depth
Students wishing to receive academic credit for this internship, please contact Kami Yamamoto, Programs & Outreach Coordinator, at kyamamoto1@sfsu.edu. 
Below is the anticipated timeline for the Summer 2023 application round. Please not that the following dates may be subject to change:
Applications go live on Golden Gate National Parks Conservancy website: Mid-February 2023

Student online application deadline: March 23rd, 2023

Student interviews: March 24th to April 17th, 2023

Position offers: April 17th, 2023

Virtual Cohort Orientation and Onboarding: May 30th, 31st, and June 6th, 2023

End of Program Celebration (required for Interns): August 4th, 2023
Be energetic, flexible, and self-motivated

Make individualized contributions to the organization and community members

Participate in cross-functional teams 

Work well be diverse individuals 

Possess good communication skills

Treat others with respect 

Communicate clearly and effectively both verbally and through written work

​Bilingual skills are a plus

For more information and expectations will be listed per each posted position. List of all available positions will be posted on the Golden Gate National Parks Conservancy website
Resources
Student Spotlights