America Reads is a federally funded work-study program and has been present at SF State since 1997. The "America Reads Challenge" stems from President Clinton's educational initiative to ensure that every child in America learned to read well with the help of a reading tutor. Federal work-study funds enable colleges and universities to hire service-minded college students to help meet this challenge.
SF State students are hired to provide academic support in SF Unified School District K-4th grade classrooms. America Reads is a great opportunity for those interested in pursuing a teaching career and gaining important skills during their participation in the program. Partnering with the Graduate College of Education, America Reads participants gain insight into the teaching credential pathways provided by the Department of Elementary Education. America Reads is a program attached to the E ED 645 / 699 Early Field Experiences course.
Announcements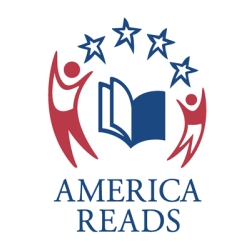 Now hiring for AY 2022-2023!
There are limited positions for both programs so offers will come on a first-come, first serve basis. 
Deadlines for applications are as follows: 
Spring 2023 semester: February 28th, 2023
Students
Overview
Paid Opportunity!
America Reads participants are San Francisco State University undergraduate and graduate students from various backgrounds and majors who are interested in working with youth. As part of their training, AR participants utilize creative and innovative ways to design culturally relevant lesson plans to enhance the reading experience for their assigned students. Over time, AR participants develop experience and understanding related to working in urban public schools, while they make connections with teachers, principals, supervisors, and most of all their elementary-level students. AR participants' end of the program has made an impact on the schools' community and has been personally transformed by their one-on-one tutoring sessions.
The training course is ongoing throughout the academic year and provides participants with over 52 hours of in-depth preparation, problem-solving, and community-building. Average AR participants will spend more than 200 hours in an elementary-level classroom.
Seeking dynamic participants for SF State America Reads!
Attain experience working with elementary-age students in the classrooms

Gain the required hours of field experience necessary for admittance to SF State's Elementary Education credential program

Utilize innovative and creative methods to increase students' skill levels in the academics needed to improve their literacy skills

Inspire and learn from your tutees, peers, and teachers

Build your resume for graduate school and/or your future career
Compensation
Eligible and accept Federal Work-Study on your Financial Aid Award.  

No experience needed, just a passion and desire to work with elementary-age youth.

Enroll in a special 3-unit Credit/No Credit [EE D 645 "Direct Experiences with Children] training class every Thursday from 4-7 pm, both Fall and Spring Semesters

Commitment to work for one academic school year (August-May)

Available to work 6-10 hours a week, during school hours: 8:00 am-3:30 pm. Exact times will be determined with the assigned classroom teacher and student schedule availability. 

Desired Second Language Skills: Chinese, Spanish, Tagalog, Arabic, Vietnamese, Russian, Japanese, Samoan, Korean
Apply early! Positions open until filled. Applicants will be interviewed on a rolling basis.
To participate, students must be eligible and accepted their Work-Study Award/ Allocation in their Student Financial Aid package.

Must be enrolled (or become enrolled) in the E ED 645 course 
If you are interested in earning your work-study allocation and want to work in the community, let us know!
Please complete the Student Interest Form and ICCE staff will reach out to you. 
Students: if you are currently enrolled in E ED 645 / 699 for the Spring 2023 semester and would like to be a part of the America Reads program, fill out an online America Reads application and/or contact Kami Yamamoto, Programs and Outreach Coordinator.
Student & Host Site Spotlights
Prospective SF Unified School District Teacher - Classroom Host
America Counts tutor in your classroom